I'm very passionate about the power and importance of our thoughts. As a child therapist, I utilized CBT more than any other modality. Though it's difficult to do that kind of work as a school counselor, I certainly implement aspects of it. I've seen how powerful it can be for students to identify unhelpful thoughts and replace them with helpful ones but I struggled to find great ways to introduce these concepts to students. The most successful strategy I found? Creating a CBT story together. It's now one of the techniques I use most often in individual counseling, group counseling, or classroom lessons. Keep reading to find out how, and get a FREEBIE!
I relied on my own (subpar) drawing skills the first few years I did this. I told students a story of a dog and two boys (or girls) while drawing it out.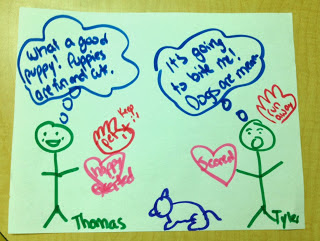 This DIY version absolutely, positively works. I encourage you to give it a try. That said, after years of using this strategy, I created some story pages with better depictions of the characters' feelings AND covering way more topics. Now I can make this technique more individualized for my students.
Whether I'm using pre-made story sheets or drawing it out by hand, there's a little bit of a "script" that I use:
"Let me tell you a story. One day, there were two boys, both 8 years old walking home from school. What should we name them? Ok, John and James." Draw two boys with these names.
"While they were walking home, both boys saw the exact same dog in the middle of the road. This is what their faces looked like." Draw a dog, add feeling faces to the boys.
"Whoa. They look like they feel very different. How does it look like John feels? How does it look like James feels?" Add hearts next to each boy, write feelings inside.
"Hm. So both boys are the same age, and they both see the same dog, but they feel totally different. I wonder why that could be." (at this time, some kids will give ideas about their thoughts – others I have to go further with) "What do you think James was thinking when he saw the dog? What do you think John was thinking?" Add thought bubbles to boys.
(Lots of students tell me here what the boys would want to do. I reflect this, add it to the picture, and then ask what their brains said that made them want to do that)
"Ok, so if John was thinking 'I love dogs, they are so much fun!' and feeling excited or happy, what would he to do? If James was thinking 'Dogs are dangerous, it might bite me' and is feeling scared, what would he do?" Draw hands and include actions.
"Whoa. Check this out. These boys were the same age and saw the same dog but they felt very different feelings and did different things. Hm. Why do you think they felt so different? Do you think it could be their thoughts?"
From here I explain that all day long, we are thinking and that these thoughts are what our brain is saying. Some of these thoughts help us, and some of them hurt us. Our brains are powerful and we are in charge of what we think.
I keep all of my story pages inside a binder. In sheet protectors, it's easy to use a dry erase marker to write on them and then erase them clean. Here's a look through how it works:
Want to try this strategy yourself? I have a couple CBT stories that you can download for free! Just click below.
Looking for other ways to use CBT strategies with elementary students? One of my other favorites is about being thought detectives which I wrote all about, too.
CBT STORIES FOR TEACHING CBT TO ELEMENTARY STUDENTS
Teaching the premise of 
CBT 
is tough work with elementary students, especially those still developing their verbal skills. These stories and examples are an interactive way for students to make 
the connections between thoughts, feelings, and behaviors
! Explain CBT through stories – a natural way for kiddos to learn about tricky things. They are also great for showing different perspectives.
I NEED THIS